Loggers Across America Convene on Alabama Coast for American Loggers Council Annual Meeting
Hundreds of loggers from across the United States convened at the Perdido Beach Resort in Orange Beach, Alabama for the American Loggers Council (ALC) annual meeting, celebrating 25 years as the national voice for independent contract loggers.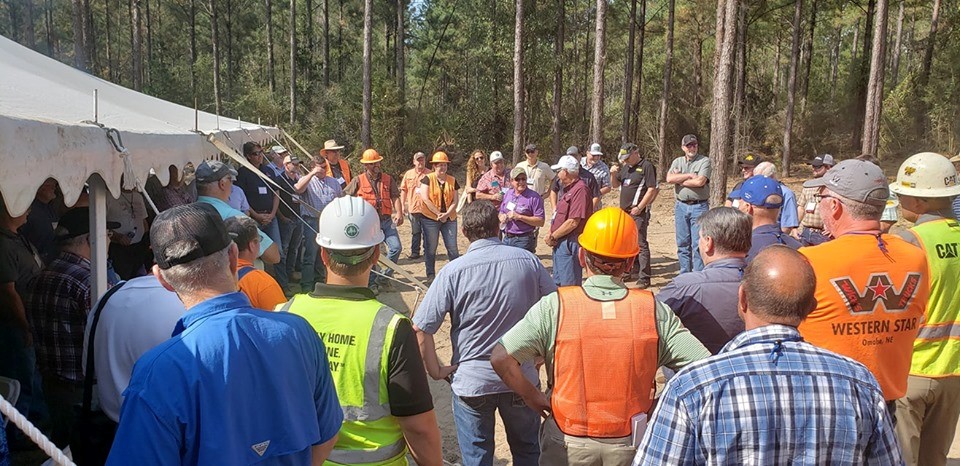 "We were are thankful for all the loggers that have taken the time to be here and celebrate this significant milestone in the history of the American Loggers Council," said Alabama logger Chris Potts, who hosted the annual meeting as ALC President. "This has been an opportunity not only to reflect on our past 25 years, but an opportunity to participate in discussions on where we will go in our next 25 years."
The three day conference included an active logging demonstration near Uriah, Ala. hosted by Thompson Tractor and Weyerhauser with Bill Hood from Weiler Forestry on hand to discuss their plans following the acquisition of Caterpillar Forest Products in early September. Technical sessions on Friday included a presentation by Alabama State Forester Rick Oates. Alabama Forestry Association director Chris Issacson briefed attendees on local workforce development and logger recruitment efforts. Attorney Andrew Perrault provided a presentation on the legal issues involving maintaining the contractor/independent contractor relationship. Miranda Gowell offered an update on Team Safe Trucking, a program focused on increasing safety and training opportunity for log truck operators.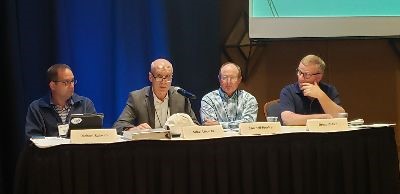 The afternoon session featured an All-Star panel of loggers on "Managing Change in Your Business," featuring Mike Albrecht, Richard Schwab, Mitchell Presley and Bruce Zuber. The panel, moderated by Tom Trone, advised attendees on the importance of adapting in a constantly changing business environment, including operating with a millennial-age workforce, among other issues.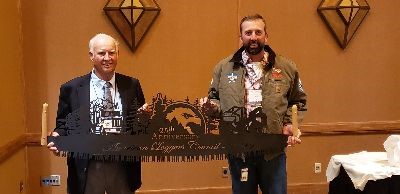 The ALC President's Award was given to Myles Anderson from Fort Bragg, California, recognizing his long-time service to the logging profession. Timber Harvesting Magazine's prestigious "Logging Business of the Year Award" was given to Miller Timber Services of Philomath, Oregon.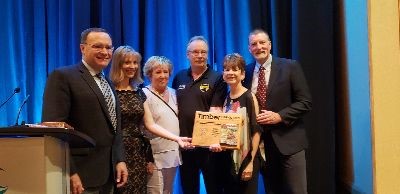 The American Loggers Council's National Logger Activist Award, which recognizes an activist who has demonstrated unselfish time and efforts to promote the timber harvesting profession, was presented to William C. Jones of Alabama.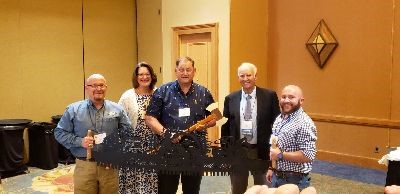 The Board of Directors and Membership meetings were held on September 28 and included committee reports from the legislative, transportation, wood-energy, communications, membership, Master Logger and nomination committees. ALC will continue to be active in the policy-making in Washington DC, including advocating for key priorities including passage of the Future Logging Careers Act, Right to Haul Act, biomass utilization and federal forest management reforms.
Ladies were treated to a beach bash on the shores of the Gulf of Mexico and a shopping experience in Fairhope, Alabama.  Attendees opened their pocketbooks on September 27 at the annual ALC President's dinner and auction, where over $30,000 was raised to support ALC programs and initiatives and another $10,000 for the Log-A-Load for Kids program, which supports medical services for children through the Children's Miracle Network Hospitals.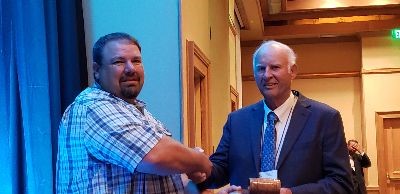 During the closing President's dinner on Saturday night, Shannon Jarvis of Missouri was introduced as the new President of the American Loggers Council. Idaho logger Tim Christopherson and New Hampshire logger Andy Irish will serve as First and Second Vice Presidents, respectively. Shannon stated that his goals during his term as President included furthering the work on a developing strategic plan that would carry the American Loggers Council organization into its next 25 years.
SCTPA Comments: The ALC annual meeting was one of the best to celebrate ALC's 25 years of "Loggers Working for Loggers." South Carolina and SC Timber Producers Association had a great representation for the annual meeting. Attending from SC were SCTPA Chairman Bo Bo Seckinger and Jeanne Seckinger, Seckinger Forest Products, Inc., Hampton; SCTPA board member Danny McKittrick and Kendra McKittrick, McKittrick Timber, LLC, Heath Springs; SCTPA board member Bob Lussier and Cindy Lussier, Great Woods Companies, LLC, Bennettsville; SCTPA Allied Supplier Member Donnie and Karen Watts and Gregg and Cindy Matthews, Palmetto State Insurance Agency, LLC, Lexington; and SCTPA President Crad Jaynes and Brenda Jaynes, Lexington. The Saturday afternoon panel discussion was very well done to hear the different discussions from loggers from around the country. SCTPA encourages our SC loggers to make an attempt to attend an American Loggers Council annual meeting to meet and talk with professional loggers from around this great country.